GLSEN Phoenix Announces 6th Annual 'Sparkle Glitter GLSEN' Event in Support of Phoenix Based LGBTQ Students
21 Apr 2021
The all virtual event aims to raise $75,000 to support annual funding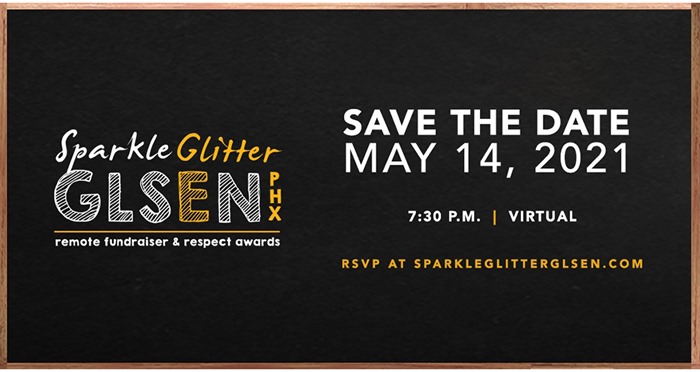 PHOENIX, AZ (April 20, 2021) – Today GLSEN Phoenix announced that it will host its 6th annual Sparkle Glitter GLSEN Remote Fundraiser and Respect Awards on Friday, May 14. The all-virtual event aims to raise $75,000 to ensure the safety of LGBTQ students in Phoenix-area K-12 schools while showing appreciation and admiration to school community leaders. During this challenging time of global isolation it is imperative that all LGBTQ feel supported and safe in being their most authentic selves. Thank you to all who have already donated and to those who plan to donate in supporting our students and inclusive school environments.
"I am so proud of our chapter for centering the needs of LGBTQ students and educators during this terribly difficult year." says Dr. Madelaine Adelman, GLSEN Phoenix Chapter Co-Founder and Fundraising Committee Chair, "For some LGBTQ students, their GSA club or supportive teacher's classroom has been where they feel a sense of belonging, and remote schooling at home has not been a safe place to be their true authentic selves. We have stayed connected with students and educators, and continue to advocate for protective, anti-racist, and transgender-affirming policies."
While the format of this year's event will be different than years past, attendees can expect an incredibly fun and engaging virtual experience. The annual Respect Awards ceremony will shine the spotlight on groups and individuals whose contributions towards creating safer environments for the youth in our school communities deserve to be recognized. Cocopah Middle School GSA will receive the Sean Nonnenmacher GSA of the Year Award. Susanna Belinger of Sierra Linda High School is being awarded the Dr. Eileen Yellin GSA Sponsor of the Year Award. Black Mother's Forum, Poder Youth in Action and Virtual Arizona Pride will be recognized with the Ally Awards for their respective work for the community, and Brian Shire, a past Co-Chair of the Chapter and long time volunteer and supporter of GLSEN Phoenix will receive the Legacy
Award. The evening will be filled with a multitude of silent auction and raffle items that attendees will be excited to bid on, allowing them the opportunity to support GLSEN Phoenix's cause all while leaving with something for themselves. One of the hot ticket items will be the travel raffle, which includes a trip to Costa Rica courtesy of AlgoGrowth (over $4,300 in value and includes $2,000 in Visa gift cards).
GLSEN Phoenix has an evening of entertainment planned. Guests will be treated to special guest appearances, musical stylings and more. Various packages to create the most enjoyable at-home experience possible are available at www.sparkleglitterglsen.com in exchange for donations to GLSEN Phoenix's total goal of raising $75,000.
The 2021 Sparkle Glitter GLSEN Remote Fundraiser and Respect Awards are taking place on Friday May 14, from 7:30-9 p.m. Registration is open at www.sparkleglitterglsen.com to receive free tickets and updates on the online silent auction and limited-ticket travel raffle launching on May 7th.
For information on sponsorship opportunities, please contact [email protected] to learn about the variety of levels available.
###
About GLSEN Phoenix
Founded in 2002, GLSEN Phoenix is part of a national chapter network that works to ensure that each student in every K-12 school is valued and treated with respect, regardless of sexual orientation, gender identity or gender expression. We believe that all students deserve safe and inclusive K-12 schools. LGBTQ students who feel unsafe and unsupported at school are more likely to have been victimized and discriminated against at school, and thus, more likely to have high absenteeism, more likely to have lower GPAs, less likely to participate in school activities, more likely to have lower self esteem and a lower sense of school belonging, less likely to graduate from high school, and less likely to consider going to college. We invest the community's time, talent, and treasure into four evidence-based interrelated areas of activity: supportive teachers, protective policies, inclusive curriculum, and empowered, student-led Gender/Sexuality Alliance (GSA) clubs. glsen.org/phoenix, facebook.com/glsen.phoenix, instagram.com/glsenphoenix, twitter.com/glsen_phoenix
About GLSEN
GLSEN champions safe and affirming schools for all students. We envision a world in which every child learns to respect and accept all people, regardless of sexual orientation or gender identity/expression. Each year, GLSEN programs and resources reach tens of thousands of K-12 schools across the United States, and our network of chapters brings GLSEN's expertise to their local communities. GLSEN's progress and impact have won support for our work at all levels of education in the United States and sparked an international movement to ensure equality for LGBTQ students and respect for all in schools. For more information on GLSEN's policy advocacy, student leadership initiatives, public education, research and educator training programs, please visit glsen.org.